Account management
This page explains how you can use the Admin Console to create and manage customer identities.
Overview
The Admin Console empowers your support team to provide guided help for customers in every aspect of their accounts in a no-code or low-code fashion.
Centralized account management allows resolving of customer issues related to personal information, authentication, or identity creation and verification. Activity logs provide insights into various account events to help customers overcome the hurdles they might be facing.
To begin managing an existing account, use an Admin account to log into the Admin Console and select Accounts and Groups from the main menu. Accounts that already exist will be displayed here, as shown below: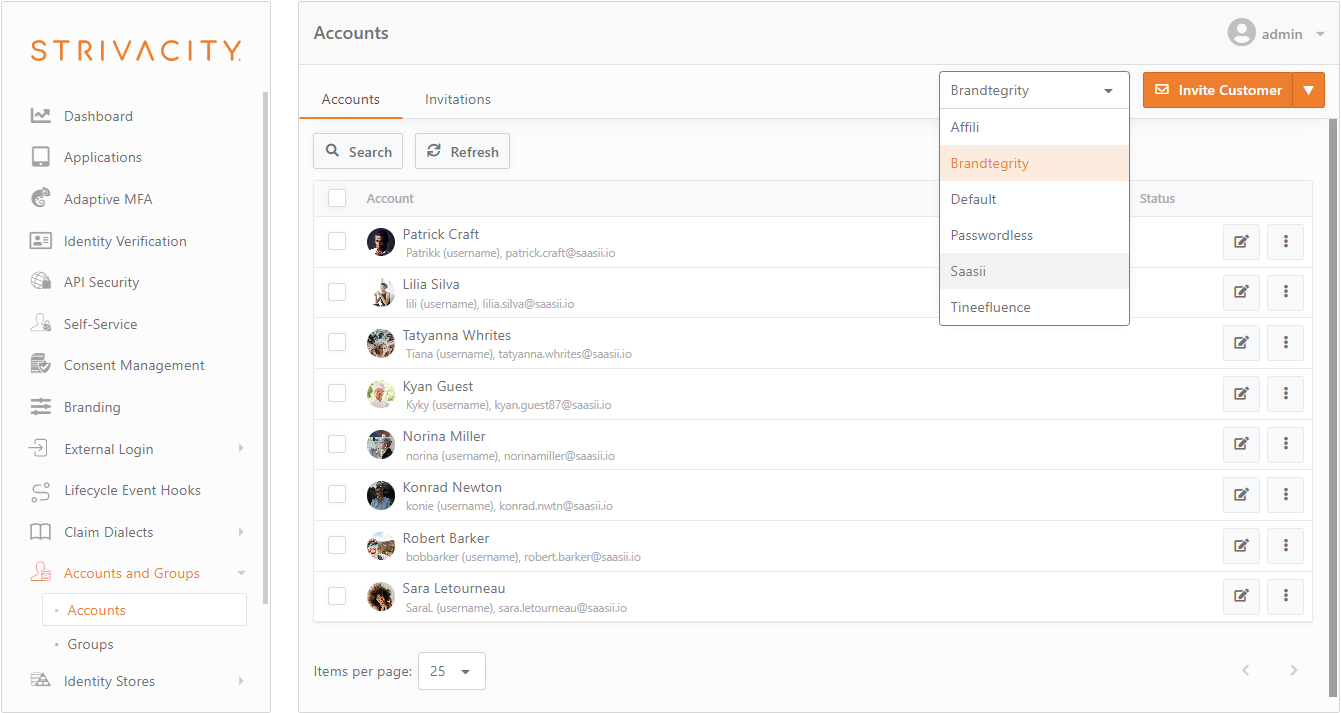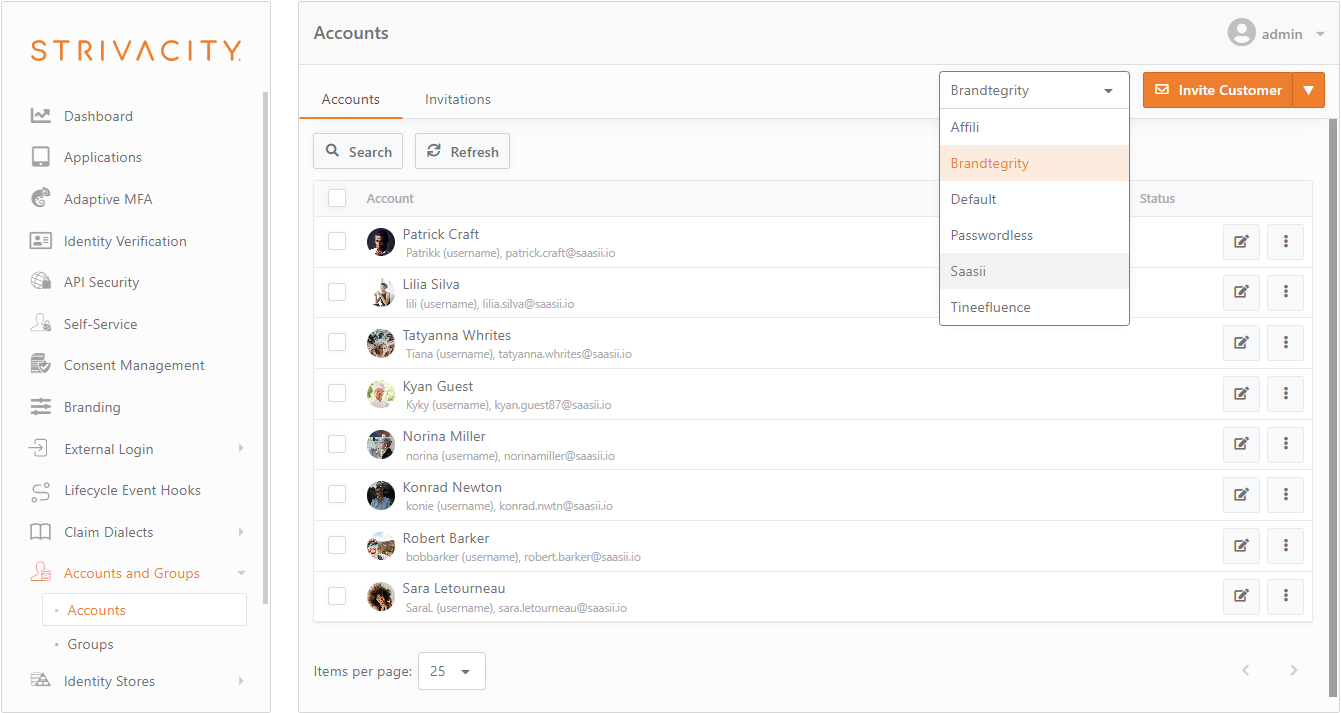 Account management allows your support team to help your customers with the following:
Account editing
Account access
1) In Accounts, select the Identity Store from the drop-down list in the top right-hand menu that contains the account that you wish to edit.
You can learn about available search options on this page.
2) Once you've located the account you wish to edit, click anywhere in the gray highlighted or click the edit button displayed at the end of a row:


3) The account editor page will be displayed as shown below.
Here, administrators or help desk personnel can access and make changes to a customer's account identifiers and basic information.
Changes take immediate effect.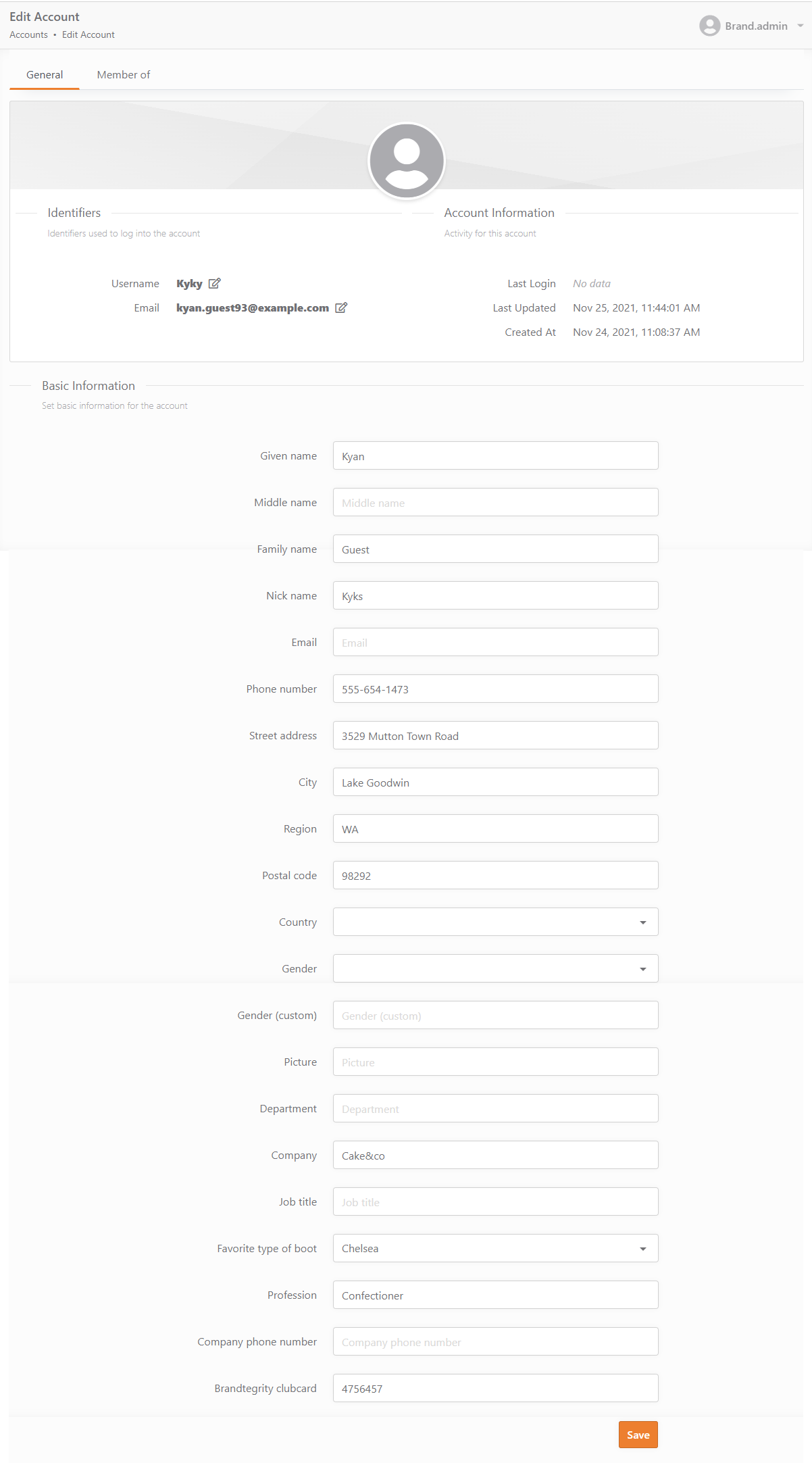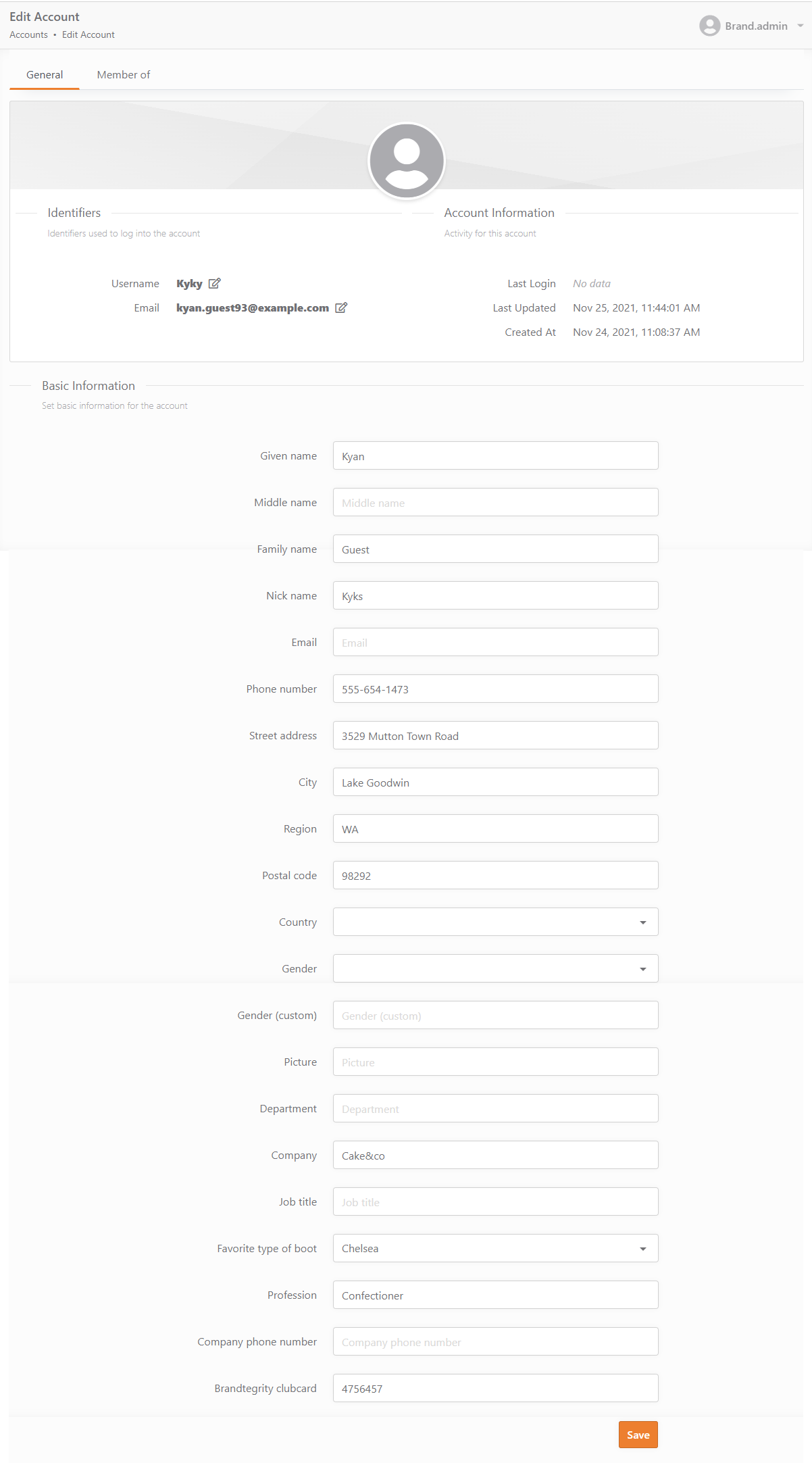 Basic information changes
Updated basic information can be saved at the bottom of the section.
When saving changes, customer service can decide whether to send a notification to the customer or not.
If more than one notification policy is available, customer service can pick the appropriate branding to apply: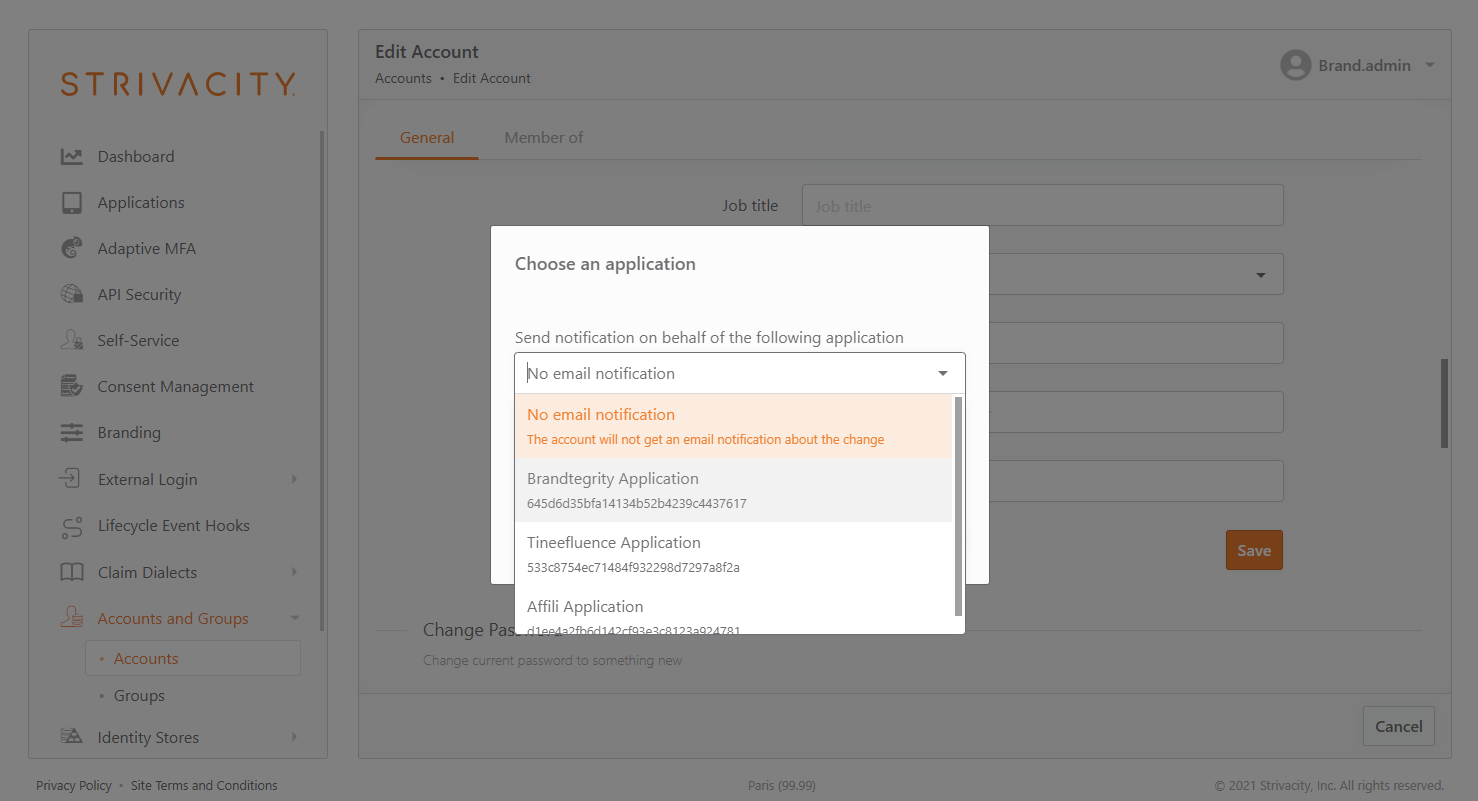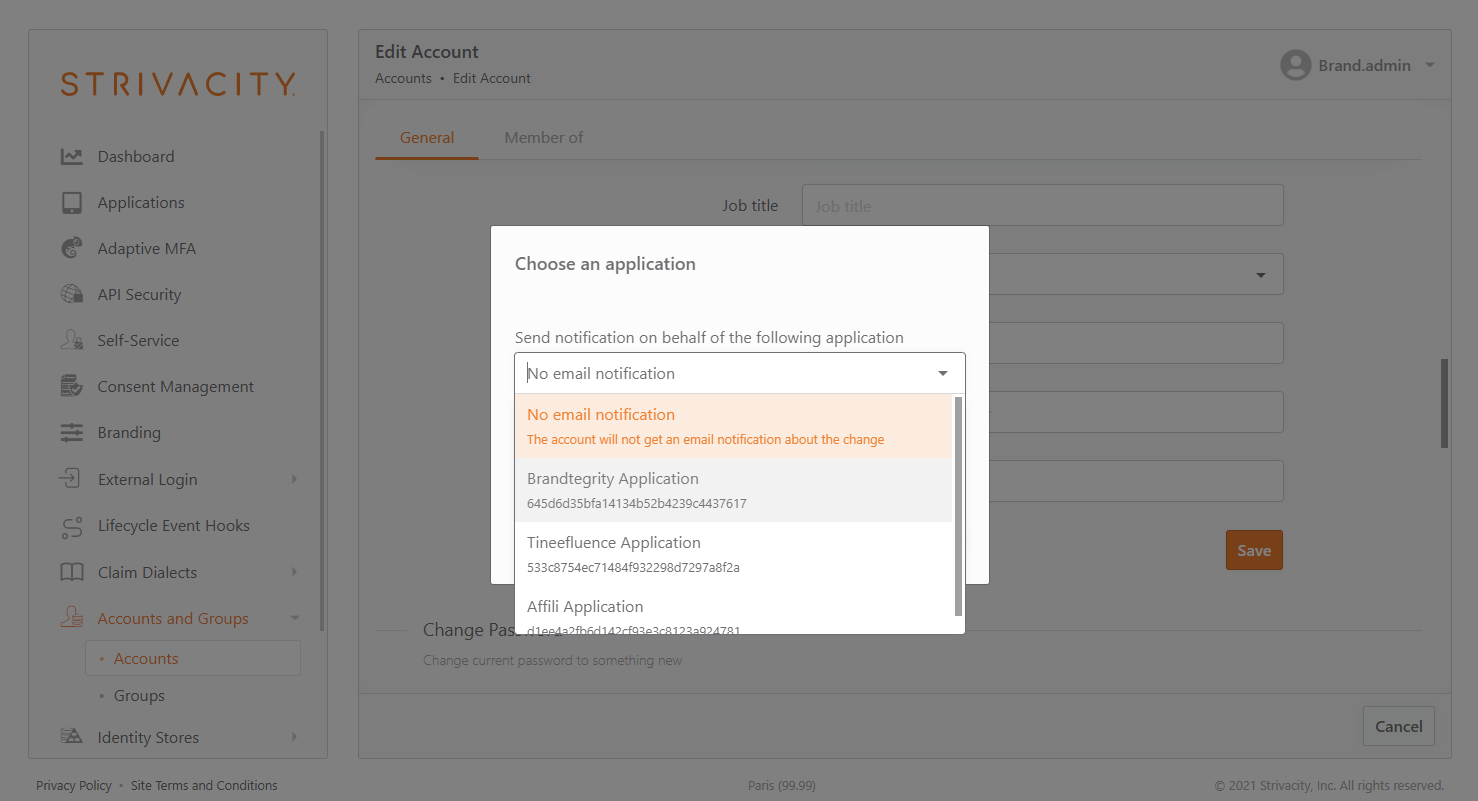 When sending system generated messages, you have multiple notification policies to choose from if the customer account's Identity Store is assigned to multiple Applications.
Administrators can also discard their changes by hitting 'Cancel' in the footer of the Edit Account page.
Account support
When your customers turn to your service desk in their final effort to recover their accounts, Strivacity equips service desk personnel with the right tools to resolve account authentication issues.
Account event logs
While troubleshooting problems for a customer, your service desk can pull up every event log related to the account in the Account Activity tab: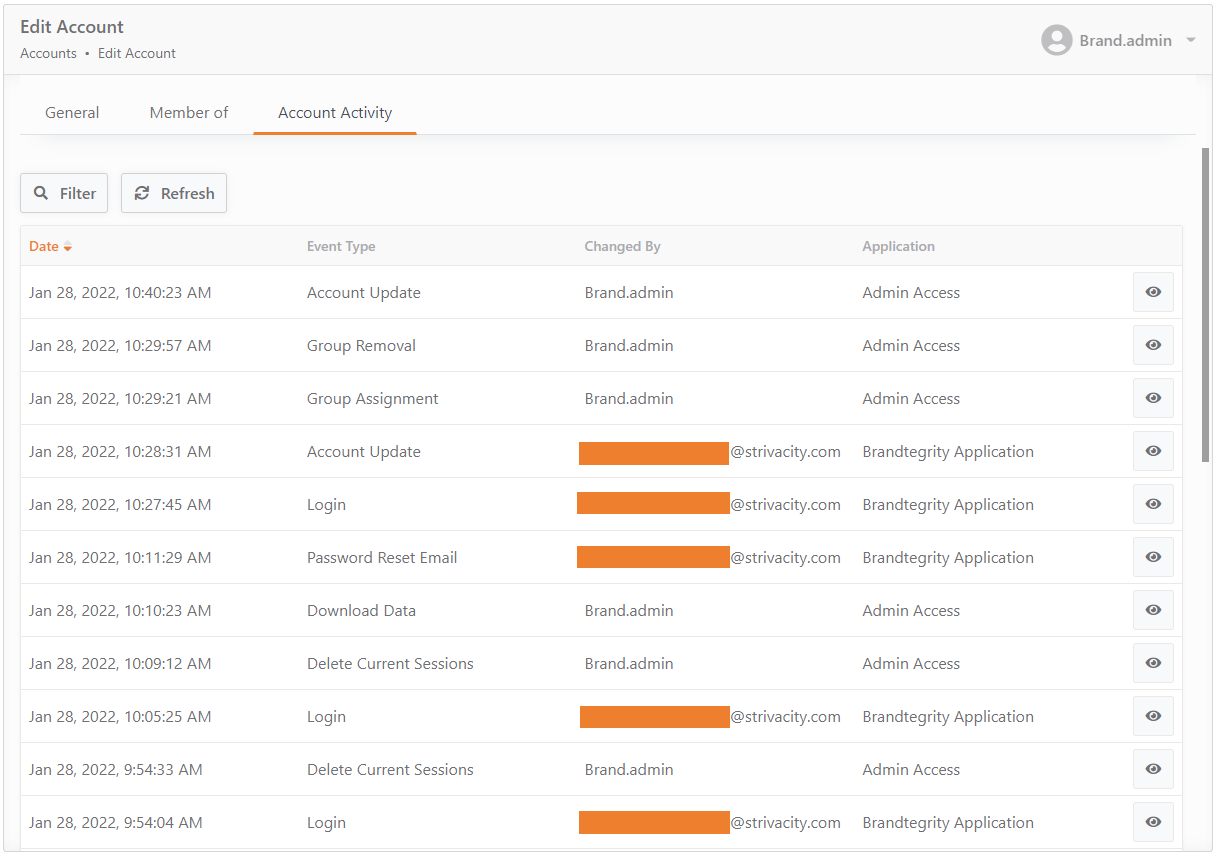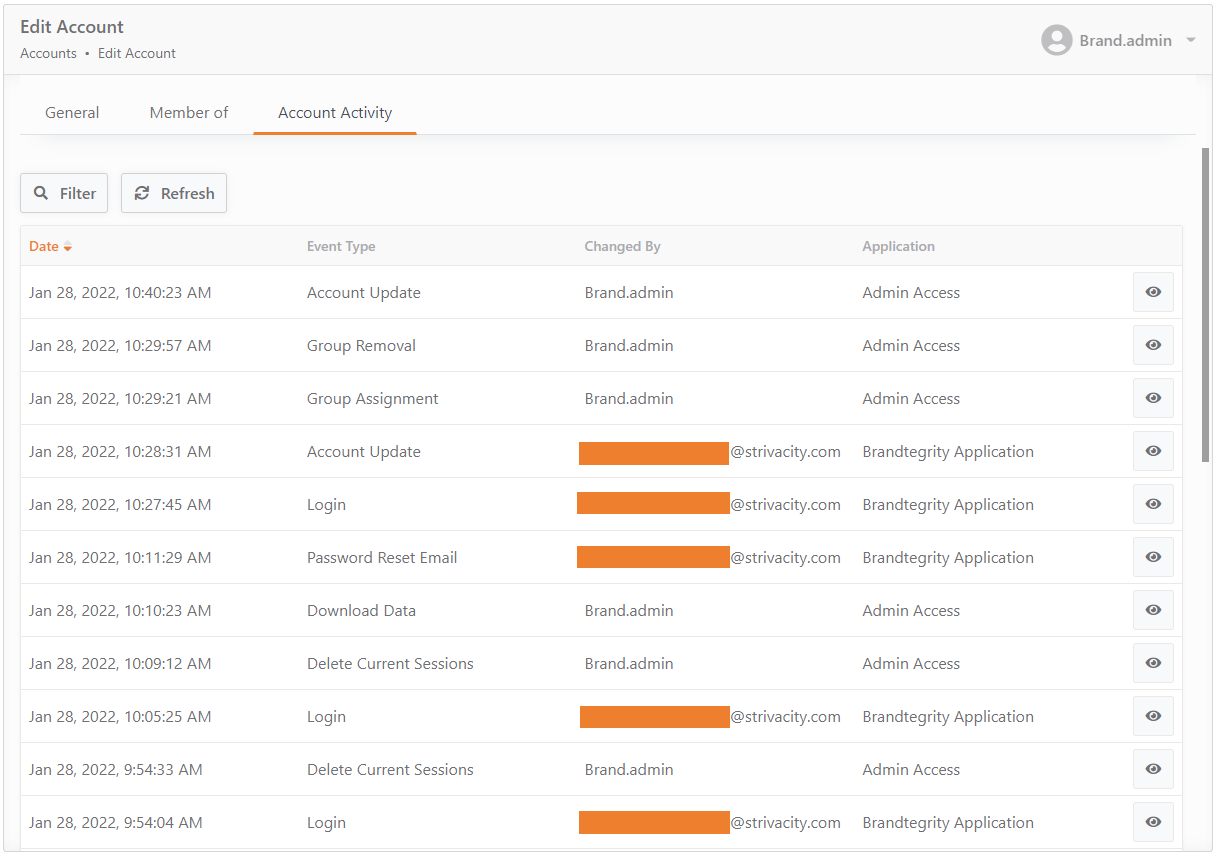 For more information, see our detailed description of account event logs.
Send password reset email
Customer service can initiate a password reset email from the Admin Console. The password reset notification will provide the customer with a secure link to self-service reset their password.


Before firing off the password reset email, customer service is prompted to pick the appropriate branding via an application: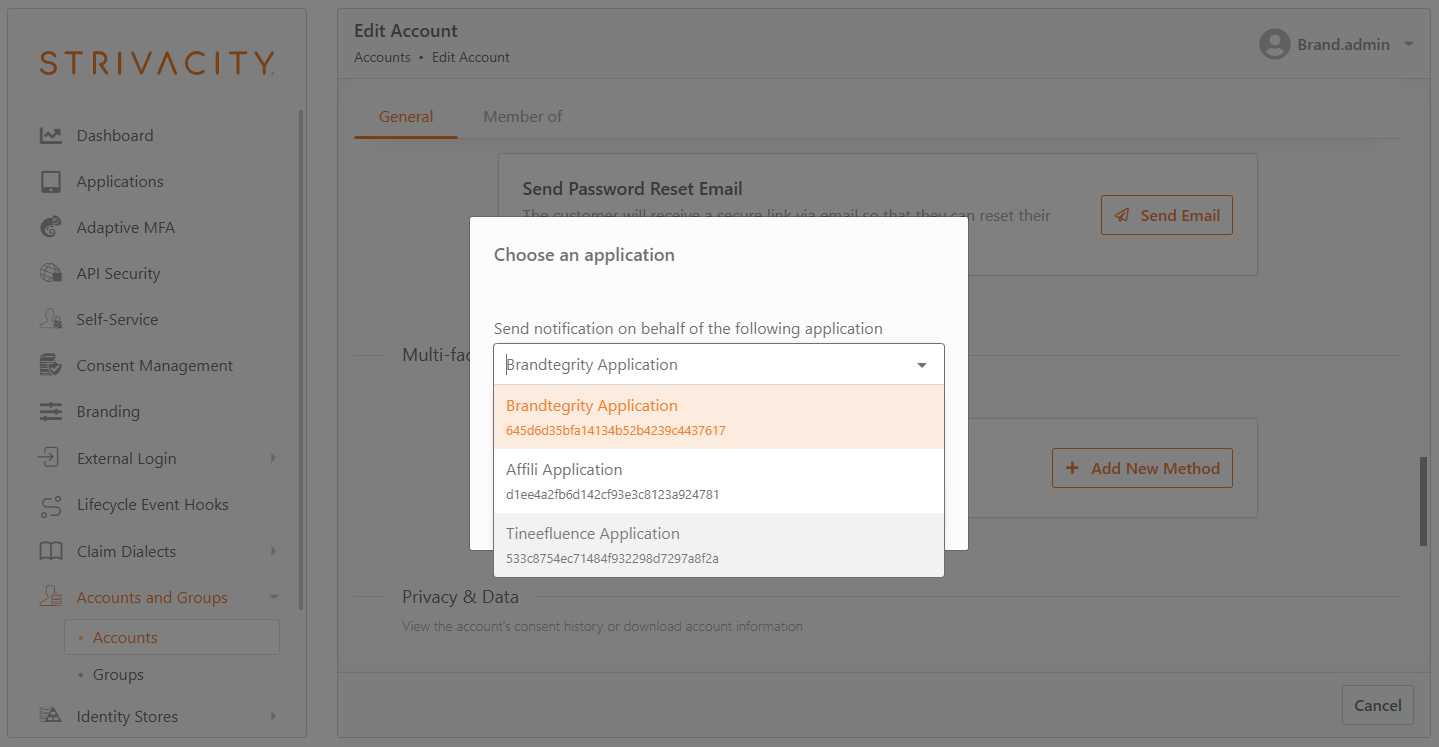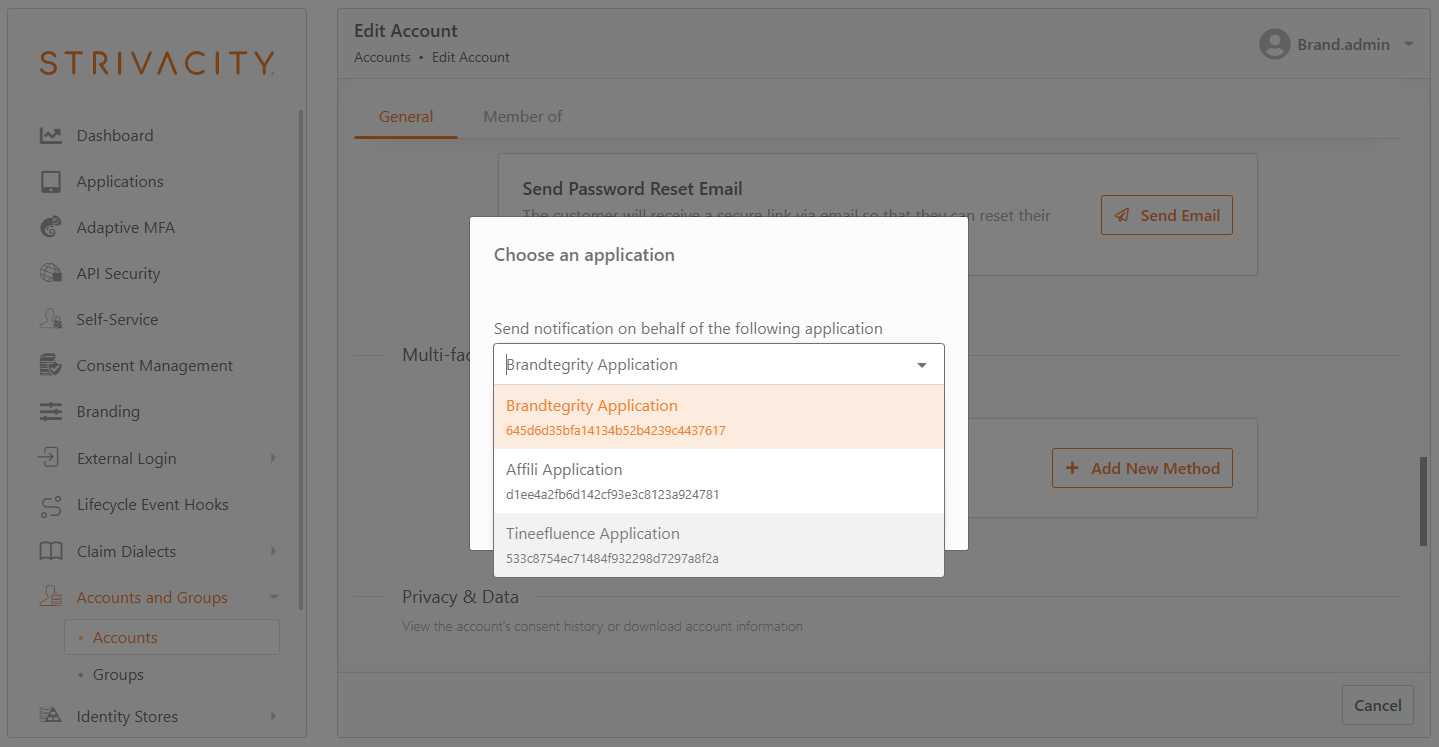 Only applications that have the Password Reset template enabled in their notification policy are listed.
Password change
When left with no other option, service desk personnel can opt to change a customer's password directly from the Admin Console:


Multi-factor authentication
The Edit Account page provides the option for your administrators or service desk personnel to view, by Application, which MFA methods a customer has set up.


Customer service can assist customers by managing their MFA methods from the Admin Console.
Delete an MFA method
Removing MFA methods may come in handy if customers lose their mobile device or can't log in to their email account. Customer service can help with just a few clicks: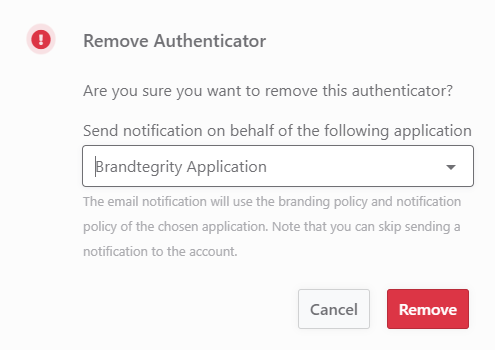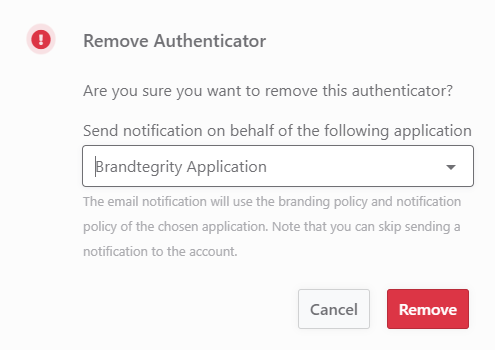 Add new authenticators
You can avoid leaving your customers without a secondary authentication method: service desk personnel can also add a new email address or phone number to a customer's account: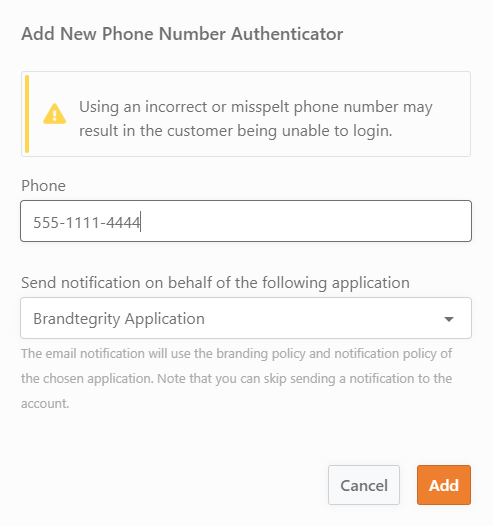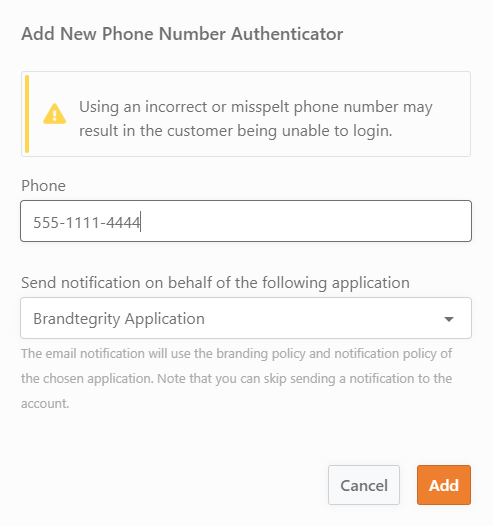 Privacy & Data
The Edit Account page also provides the ability for administrators or help-desk staff to download the customers' account information to help service any data requests per regulatory and privacy standards, such as GDPR.

Current Sessions
The Edit Account page provides the option for your administrators or help-desk staff to view and manage the current sessions that a customer may have open across devices. An administrator can view the browser type, the geographic location, and the IP address from where the session originated. The details of these sessions can be viewed, and the sessions terminated if needed.
Upon termination of a session, any access from that browser will be terminated. If a customer wishes to use that same browser again, they will be required to re-authenticate and provide an MFA method if configured.
Updated about 1 month ago
---