Using multiple custom domain names
Learn more about how Strivacity provides complete flexibility for using multiple and different domain names for multiple customer facing apps.
Strivacity provides an entirely flexible approach to using multiple and different DNS domains for any customer facing applications. This is ideal if your organization manages multiple customer facing applications that may use different brands and different DNS domains. Strivacity supports this all within the same Strivacity instance from the same admin console - providing centralized management of all your enterprise apps, regardless of brand or domain.
This also provides an excellent way to ensure that any email notifications for an application are sent from a particular DNS domain of your choosing. For more information about customizing email notifications see Notification Policies.
The diagram below provides an example of some of the possibilities in the flexibility of using customer DNS Names: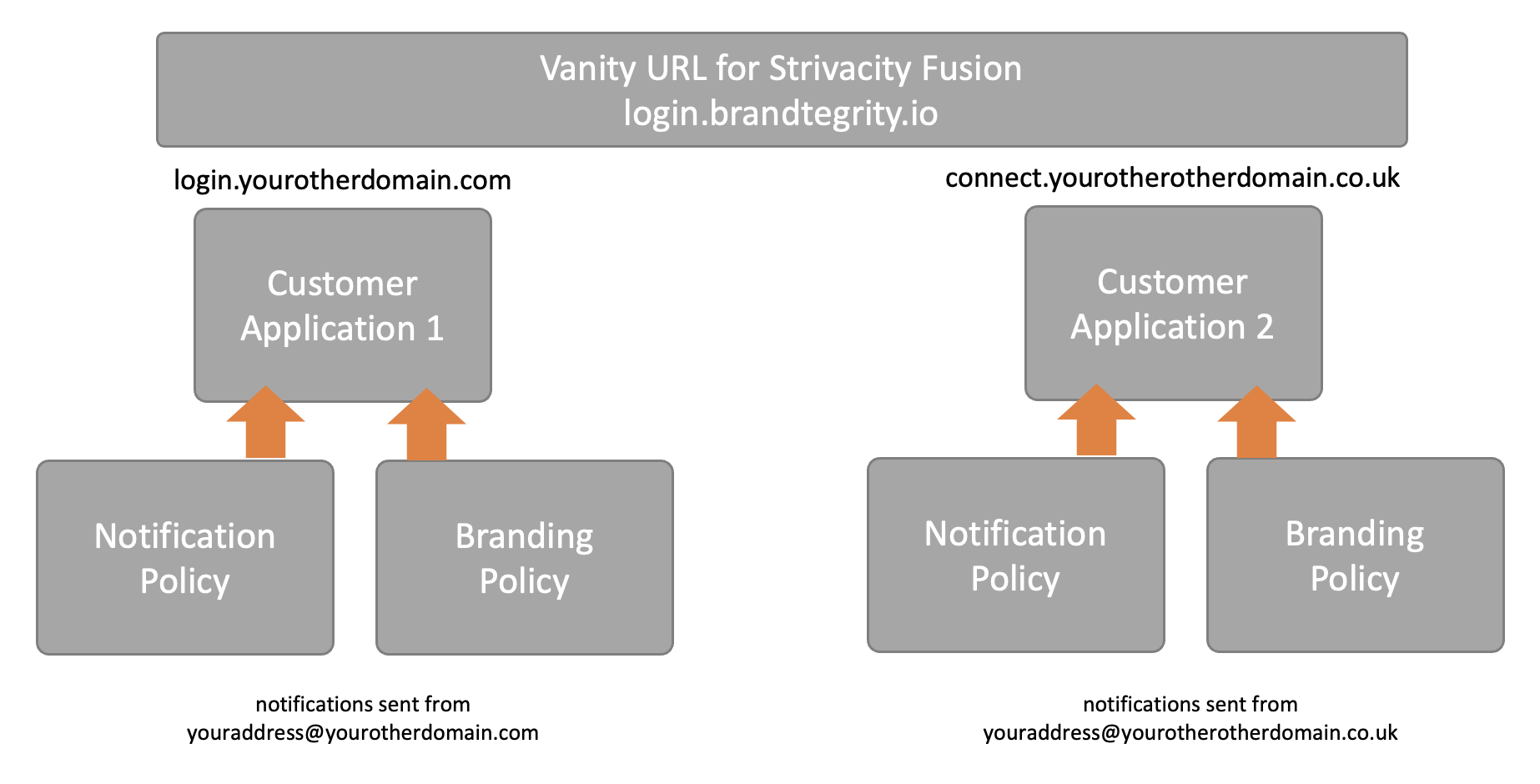 🚧

Limitations

Strivacity only supports a single level of subdomains.
Add NS Records to your DNS domain
Take the following steps to be able to use your existing DNS domains with Strivacity.
For each domain, add a single Named Service record containing the 4x following values:
1.ns.strivacity.com
2.ns.strivacity.com
3.ns.strivacity.com
4.ns.strivacity.com

For example, with login.brandtegrity.io the following NS record should be added to brandtegrity.io
Record Name
Type
Value/Route Traffic To
login.brandtegrity.io
NS

1.ns.strivacity.com

2.ns.strivacity.com

3.ns.strivacity.com

4.ns.strivacity.com
Configuring an application to use a new DNS domain
Once Strivacity has confirmed adding your DNS domains for your Strivacity instance, follow these steps:
1) Log into the Admin Console using an admin account.
2) From the left-hand menu, select Applications.
3) Choose the existing application that you wish to configure a DNS domain for, or create a new application.
4) When creating or editing a client under an application, select the Application Domain drop down list. Any domains that you have requested to be used with your Strivacity instance will be listed here.
Default corresponds to the application using the vanity URL (if configured) for your instance of Strivacity. For example if your requested vanity URL is login.saasii.io, then an application configured to use default will be available via a URL using that domain name.
5) Once you've selected the application domain that you wish to use with your application, click the Save button. The changes will be effective immediately.
🛑

Changing an application domain on an application that is in-use will cause customers to lose access to that application if any referencing URLs are not updated. Use with caution!
Updated about 7 hours ago
---