Dashboard overview
The Strivacity dashboard is where you can quickly see status of your instance and gain insight into how your customers are using your web portals or applications.
The Dashboard is the first thing that you will see when you log into the Admin Console. The dashboard provides real-time insight into how your customers are using your web portals and applications that are under the management of Strivacity.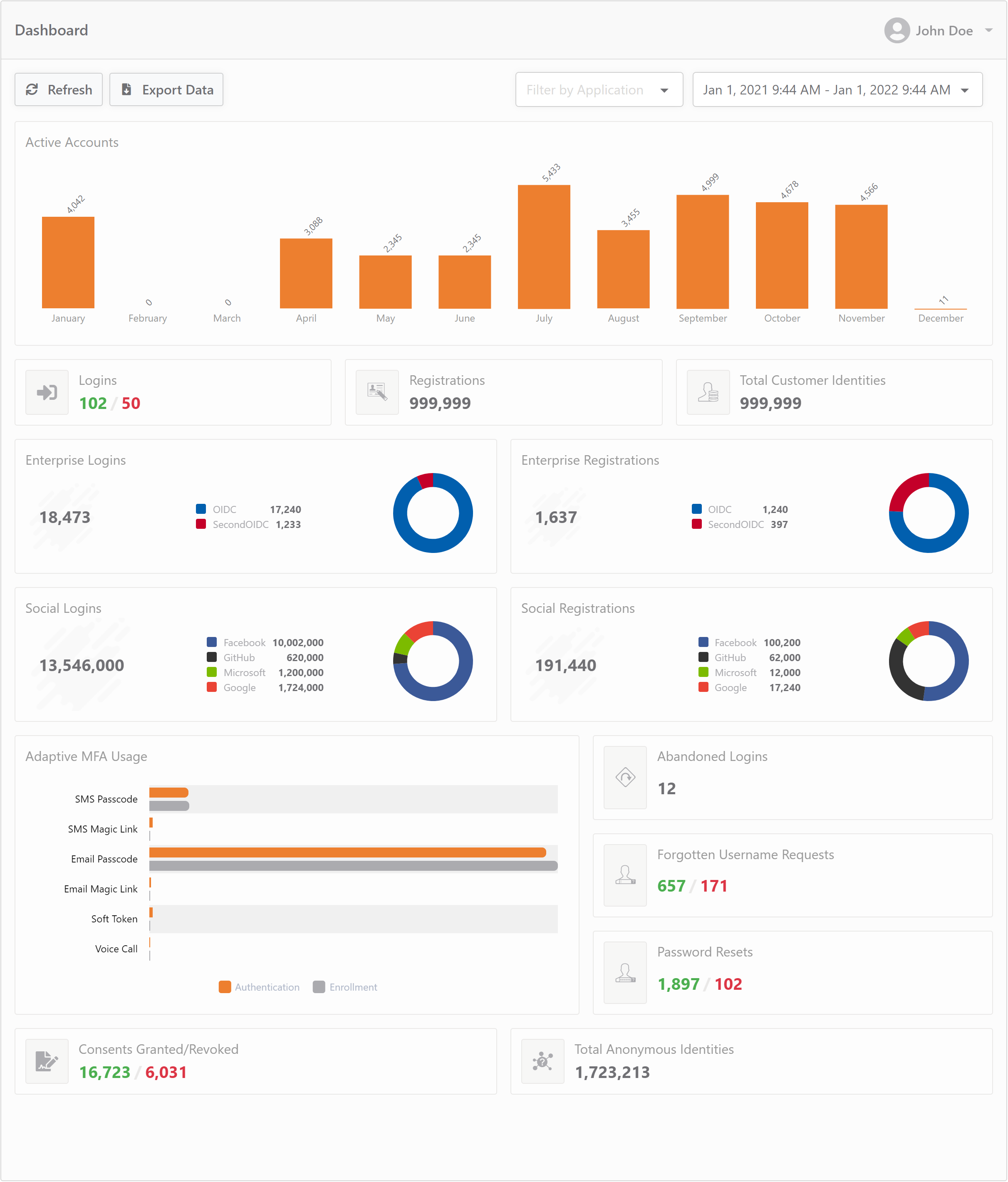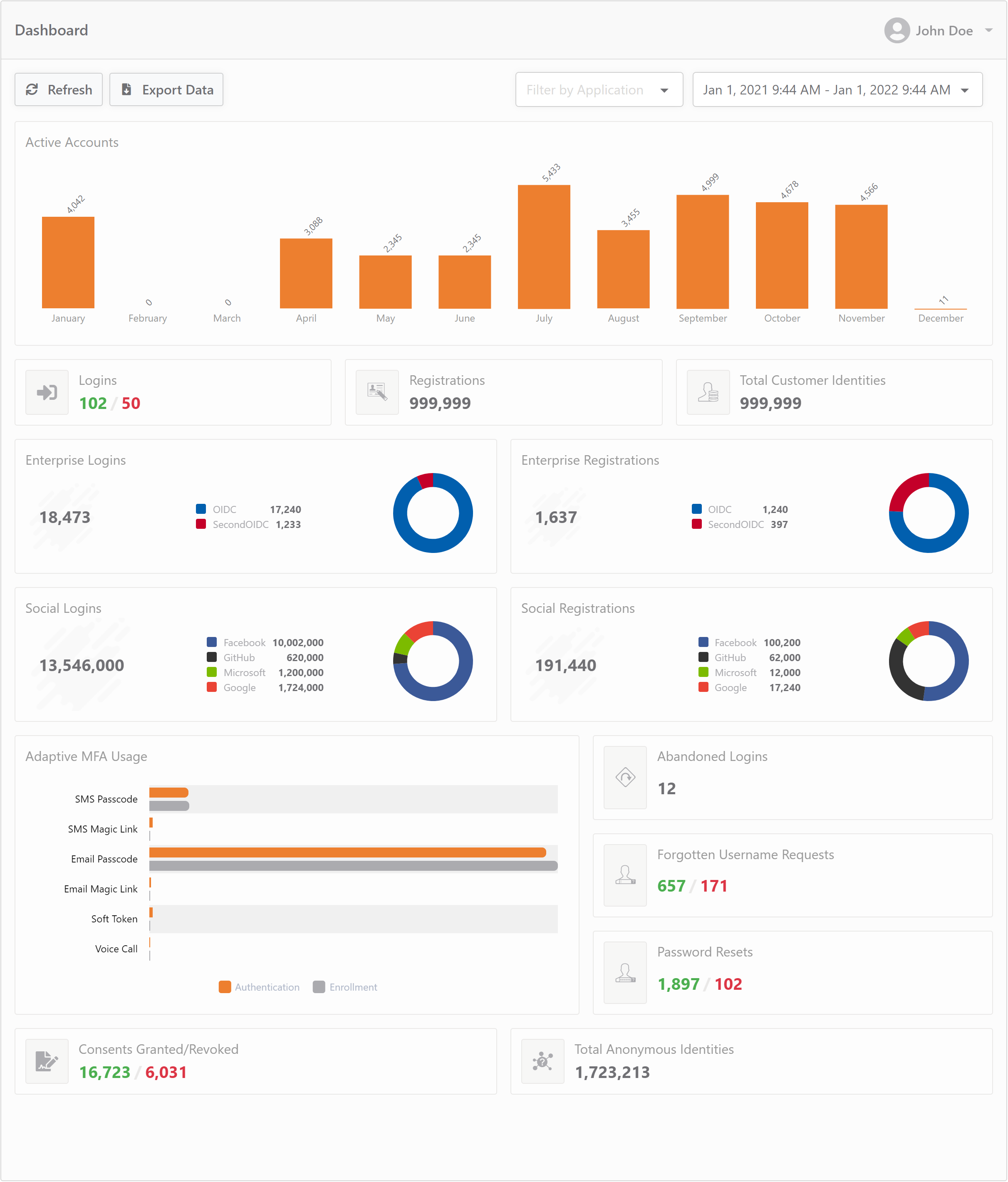 The information displayed in the Strivacity dashboard is cumulative of activity for all configured applications and identity stores unless filtered down by application.
Filters
The information and data that the dashboard displays can be filtered from the drop-down in the top right-hand corner of the dashboard.
Any time you return to your dashboard, you'll find filters just the way you left them— we save your filter settings for the next time you come back to view statistics.
Filter by application
Check how each of your brands is doing by filtering by an application:
The Active Account chart and Total Customer Identities widget always show the cumulative data of all configured applications and identity stores, regardless of the filter by application setting.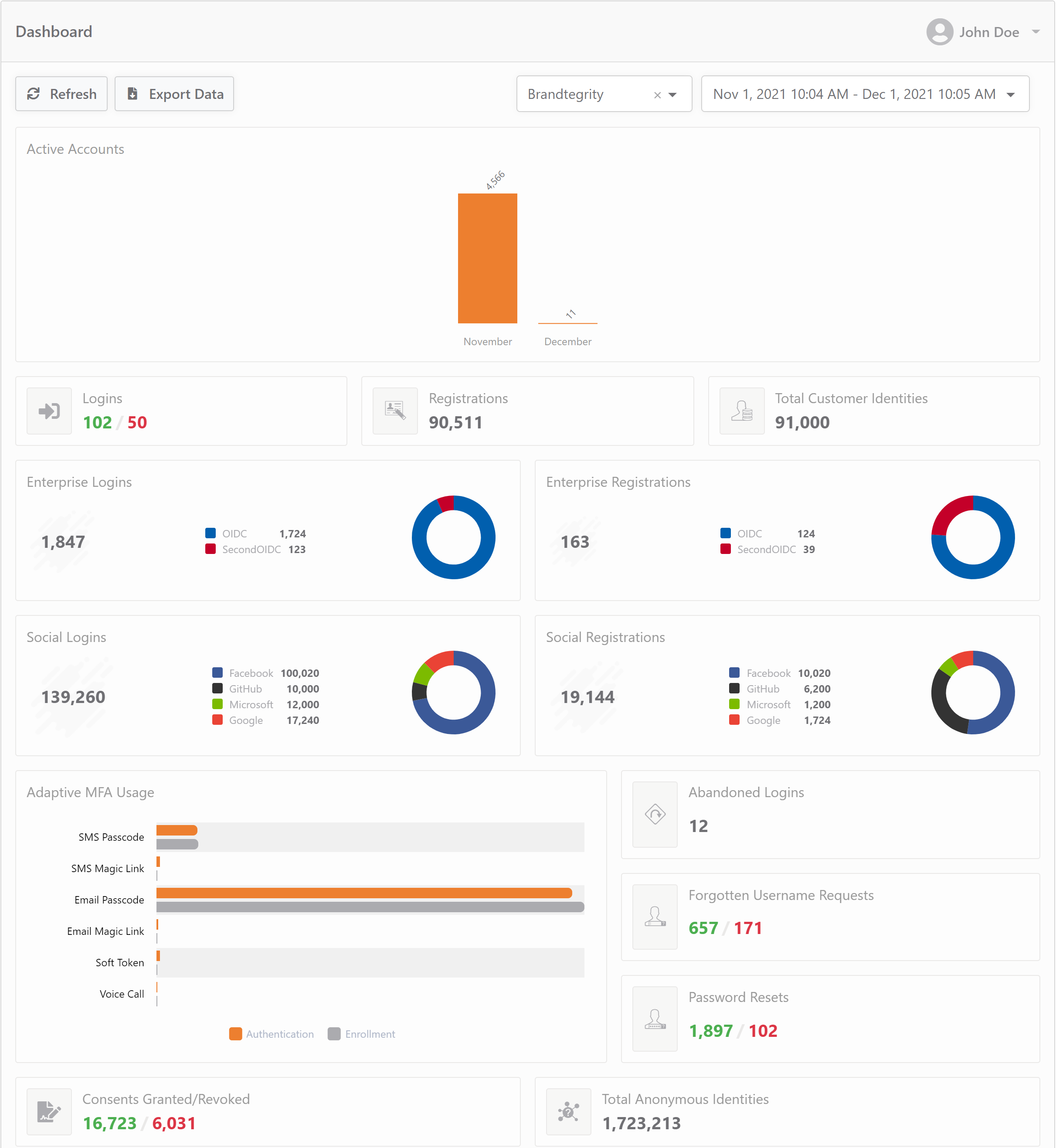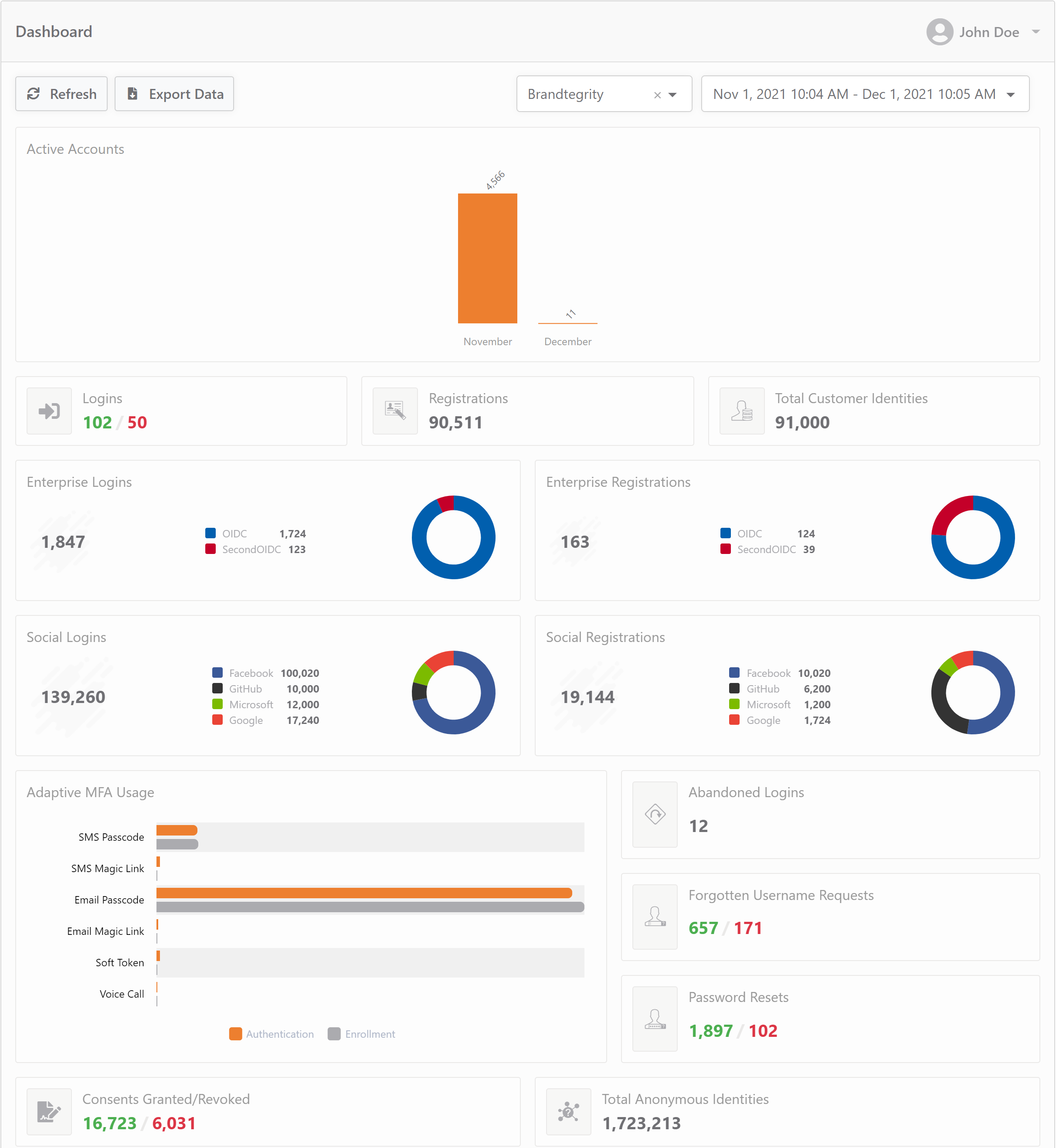 Filter by time & date
Time & date filtering options now come with timezone selection.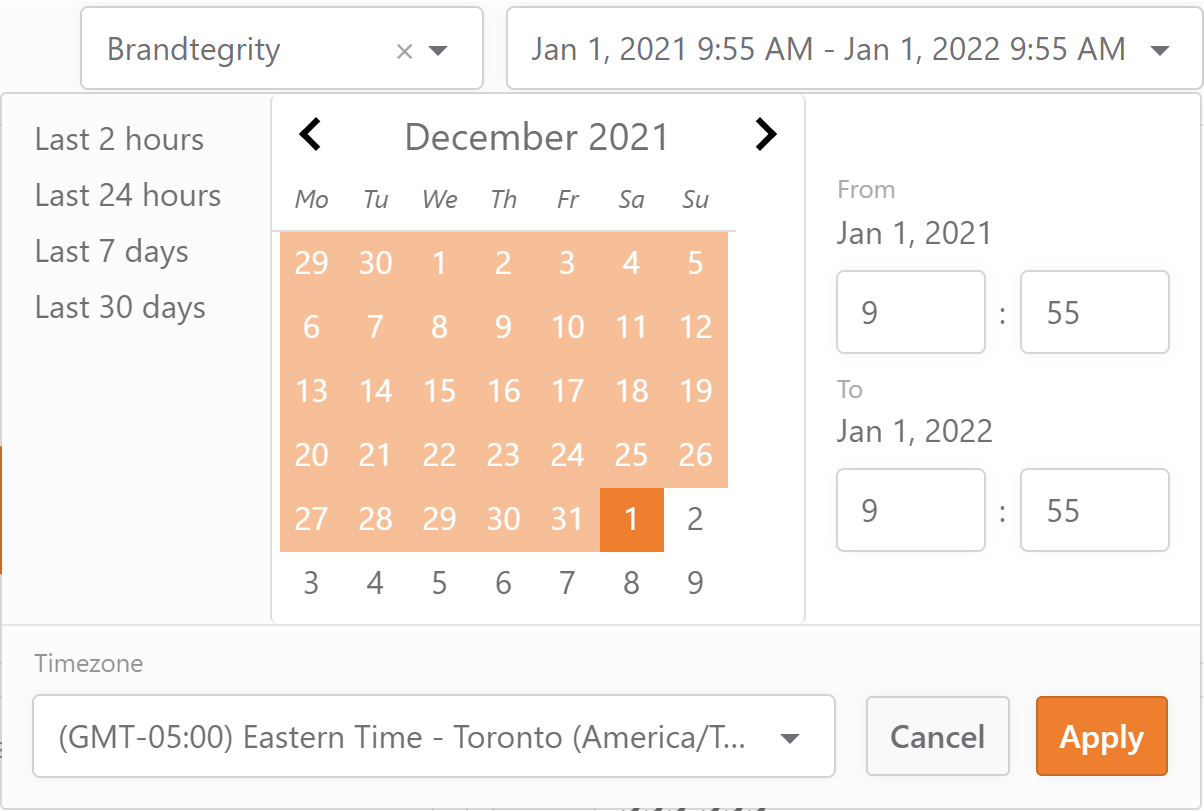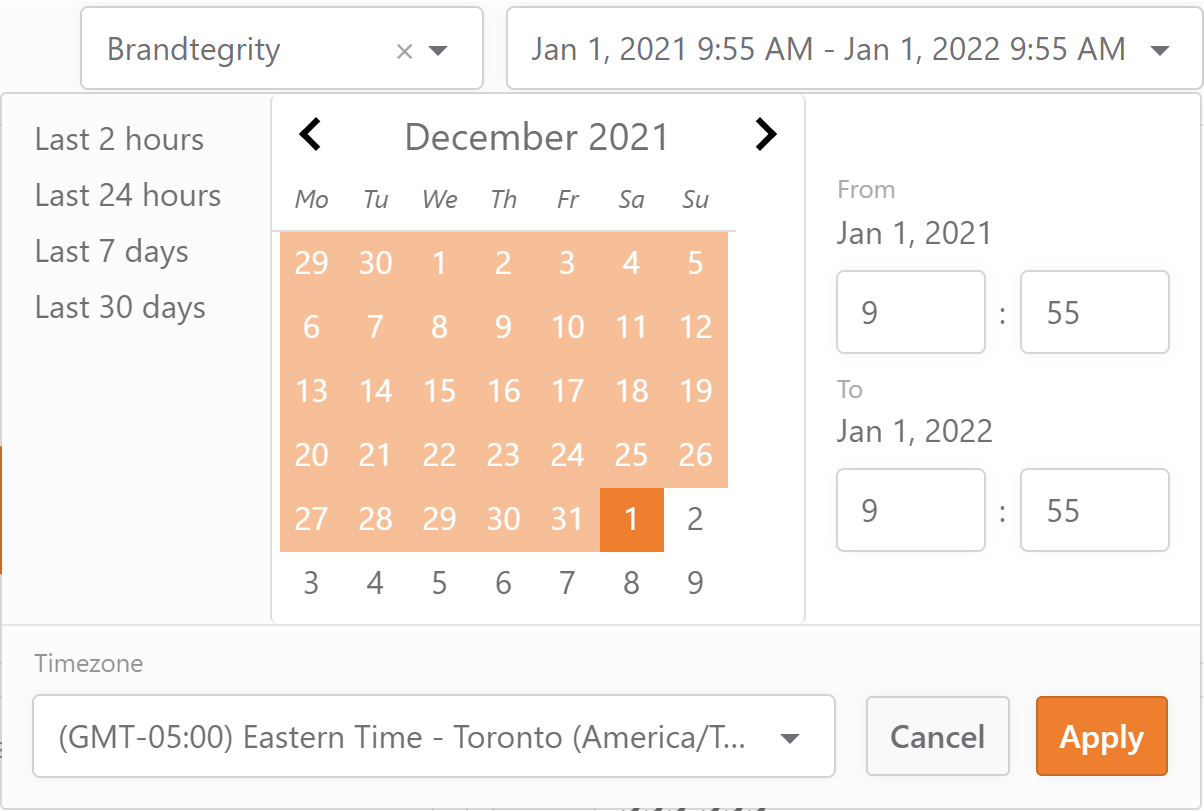 Default time filtering options can show data from set periods ranging from the last 2 hours up to the year before:
Last 2 hours
Last 24 hours
Last 7 days
This month
Last month
This year
Last year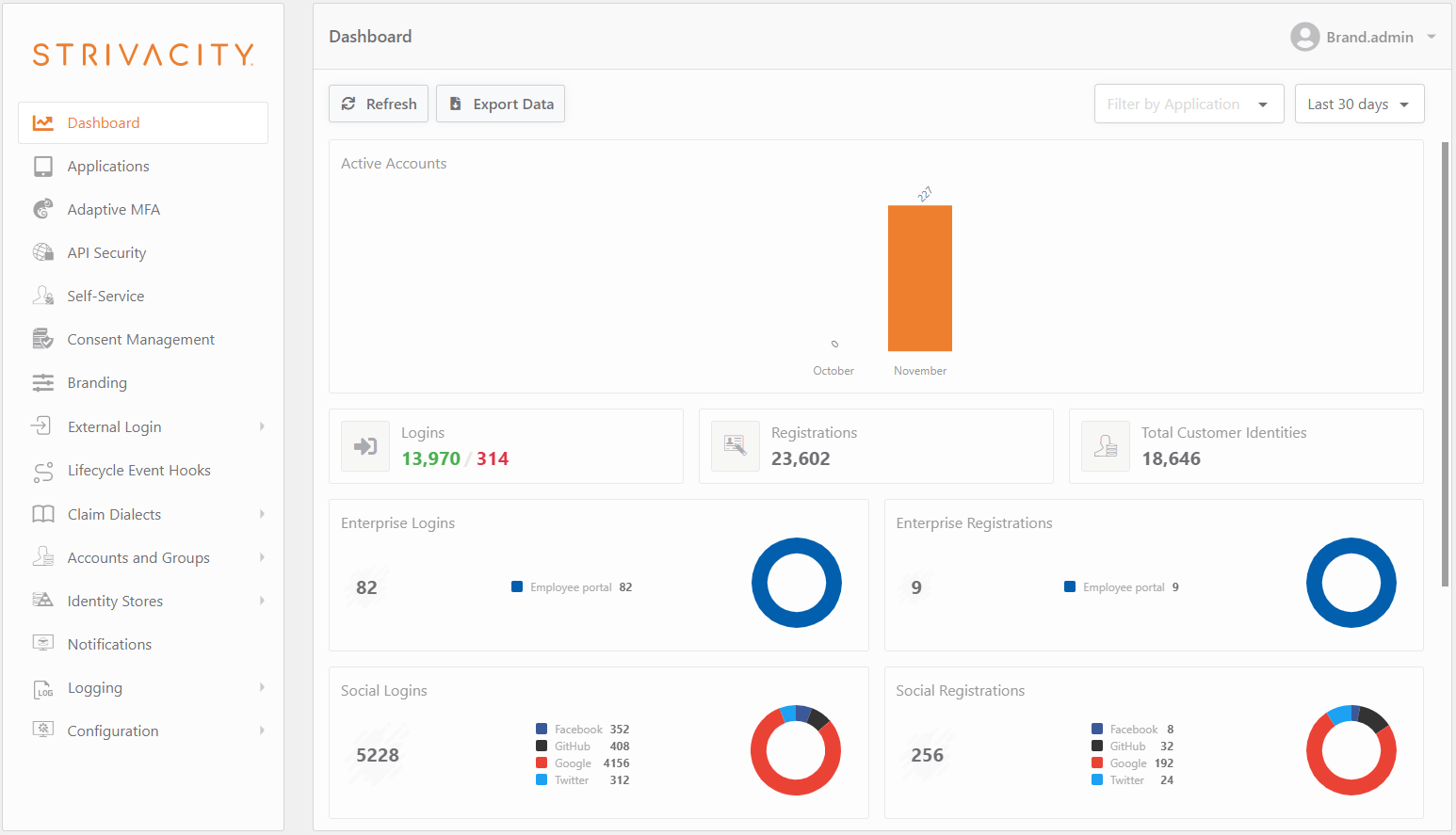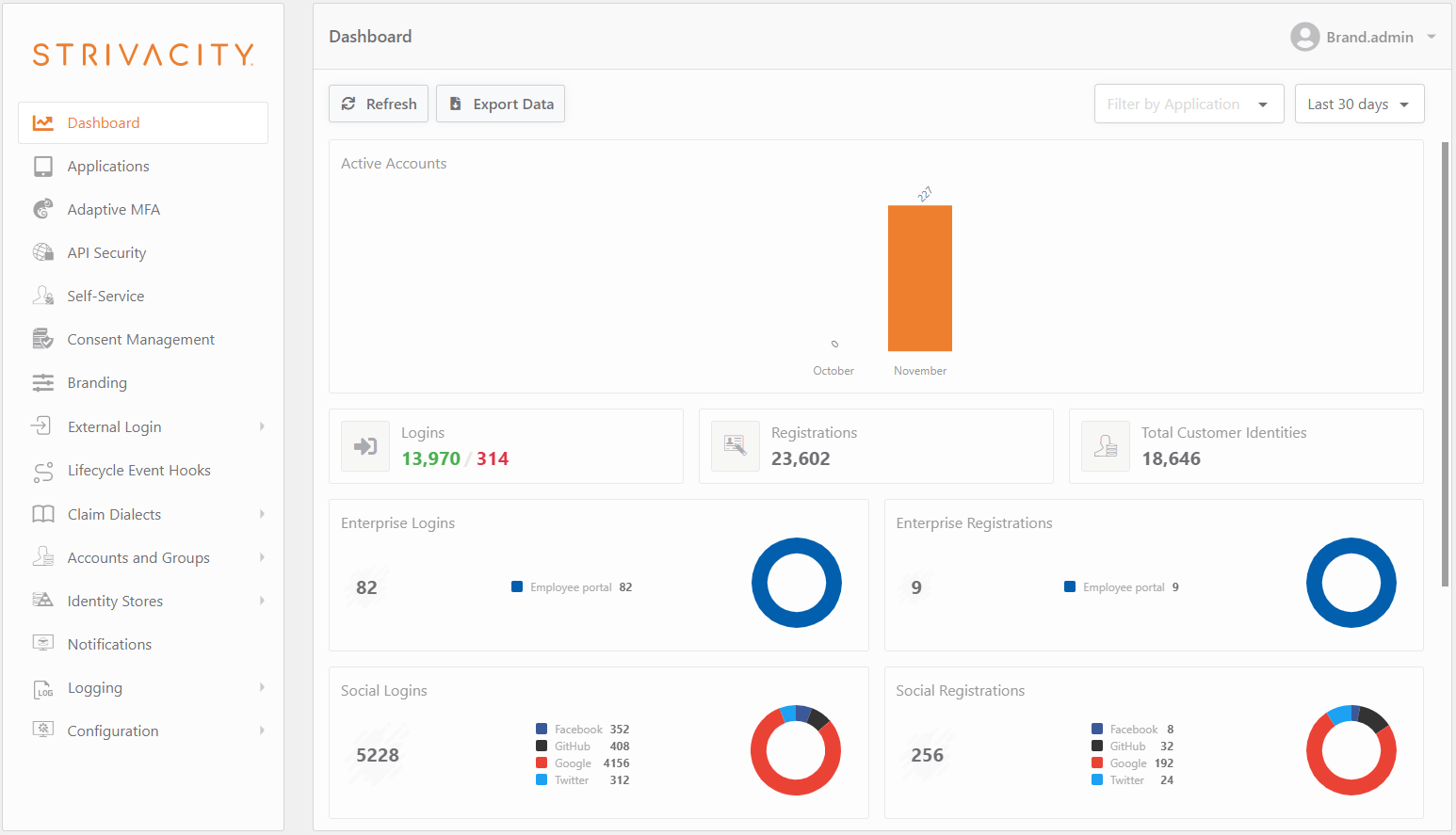 Use the calendar tool to filter by a custom date and time range: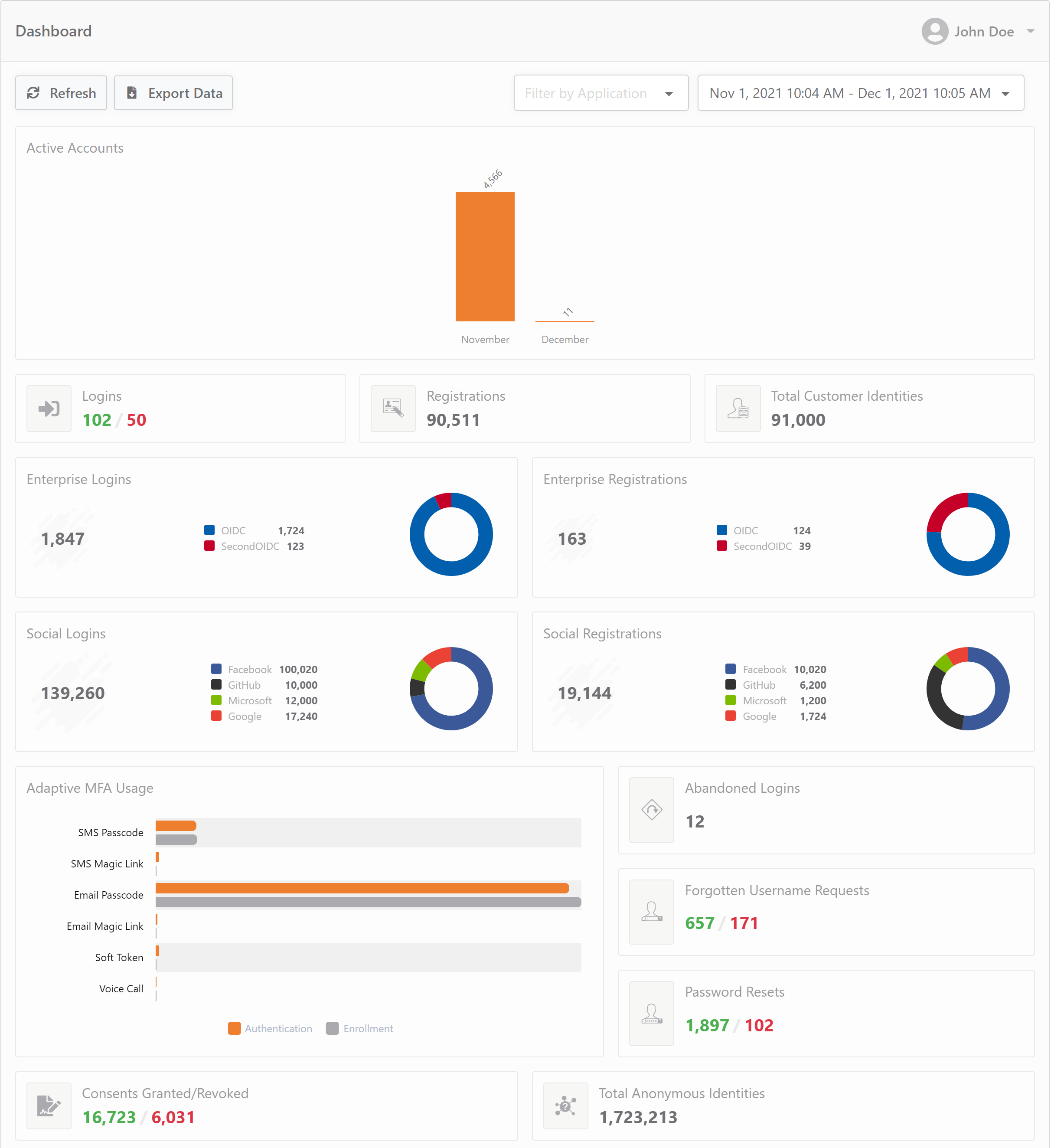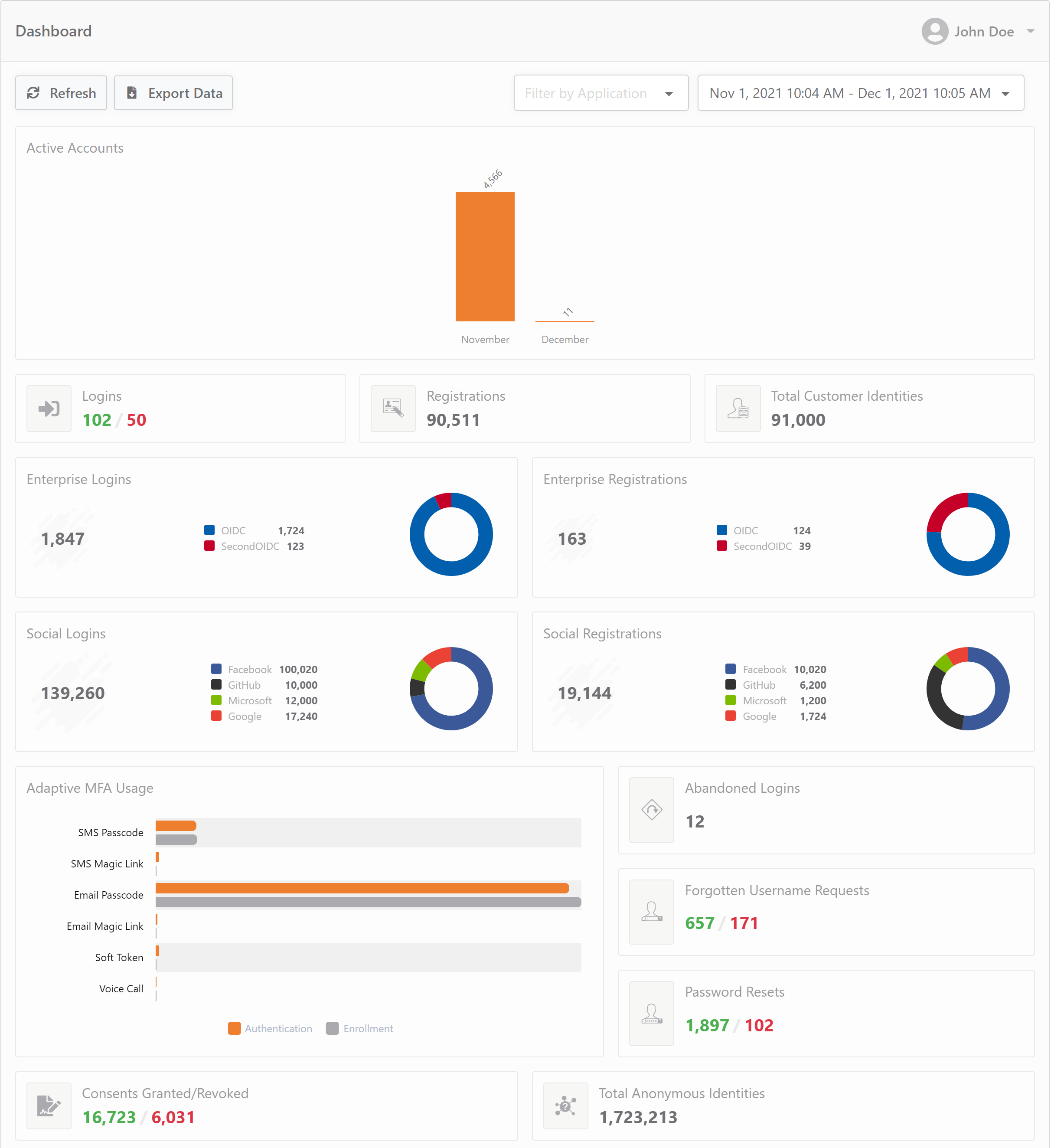 Dashboard widgets
The following table provides an overview of the dashboard widgets:
The monthly Active Accounts chart will only start counting logins following the Las Vegas update.
| Widget | Description |
| --- | --- |
| Active Accounts | The chart displays the number of active accounts logged in over a selected time range in a monthly breakdown across all identity stores. |
| Logins | The number of successful and unsuccessful logins |
| Registrations | The number of newly created customer identities via self-service or the Admin Console |
| Total Customer Identities | The total number of customer identities across all identity stores |
| Enterprise Logins | Displays 1) the total number of enterprise logins and 2) the number of enterprise logins broken down by each configured enterprise login provider |
| Enterprise Registrations | Displays 1) the total number of enterprise registrations and 2) the number of enterprise registrations broken down by each configured enterprise login provider |
| Social Logins | Displays 1) the total number of social logins and 2) the number of social logins broken down by each configured social login provider |
| Social Registrations | Displays 1) the total number of social registrations and 2) the number of social registrations broken down by each configured social login provider |
| Adaptive MFA Usage | The number of logins using each configured Adaptive MFA method |
| Abandoned Logins | The total number of abandoned logins - an indicator that an attacker was unable to continue during the login process, or a legitimate customer decided not to continue to login |
| Password Resets | The total number of successful password reset requests using self-service |
| Forgotten Username Requests | The total number of forgotten username requests using self-service |
| Consents Granted/Revoked | The total number of first-party data consents granted or revoked using the Fusion Consent API |
| Total Anonymous Identities | The total number of anonymous visitors that consents have been captured for |
Data export
We've added data exporting capability to the dashboard: click on Export Data to export selected dashboard widget results to a CVS file
from a specified time range
from a selected application
with a time resolution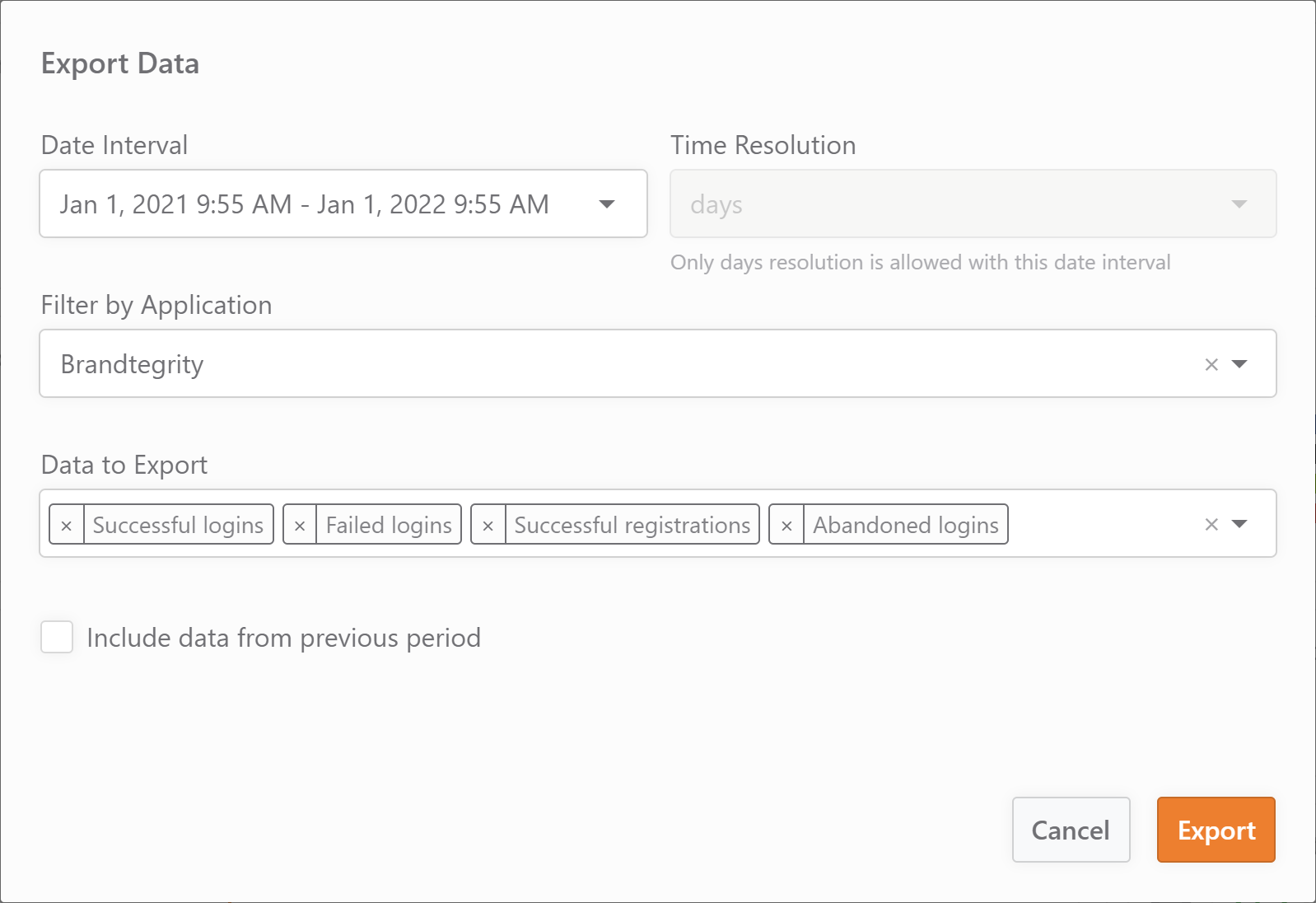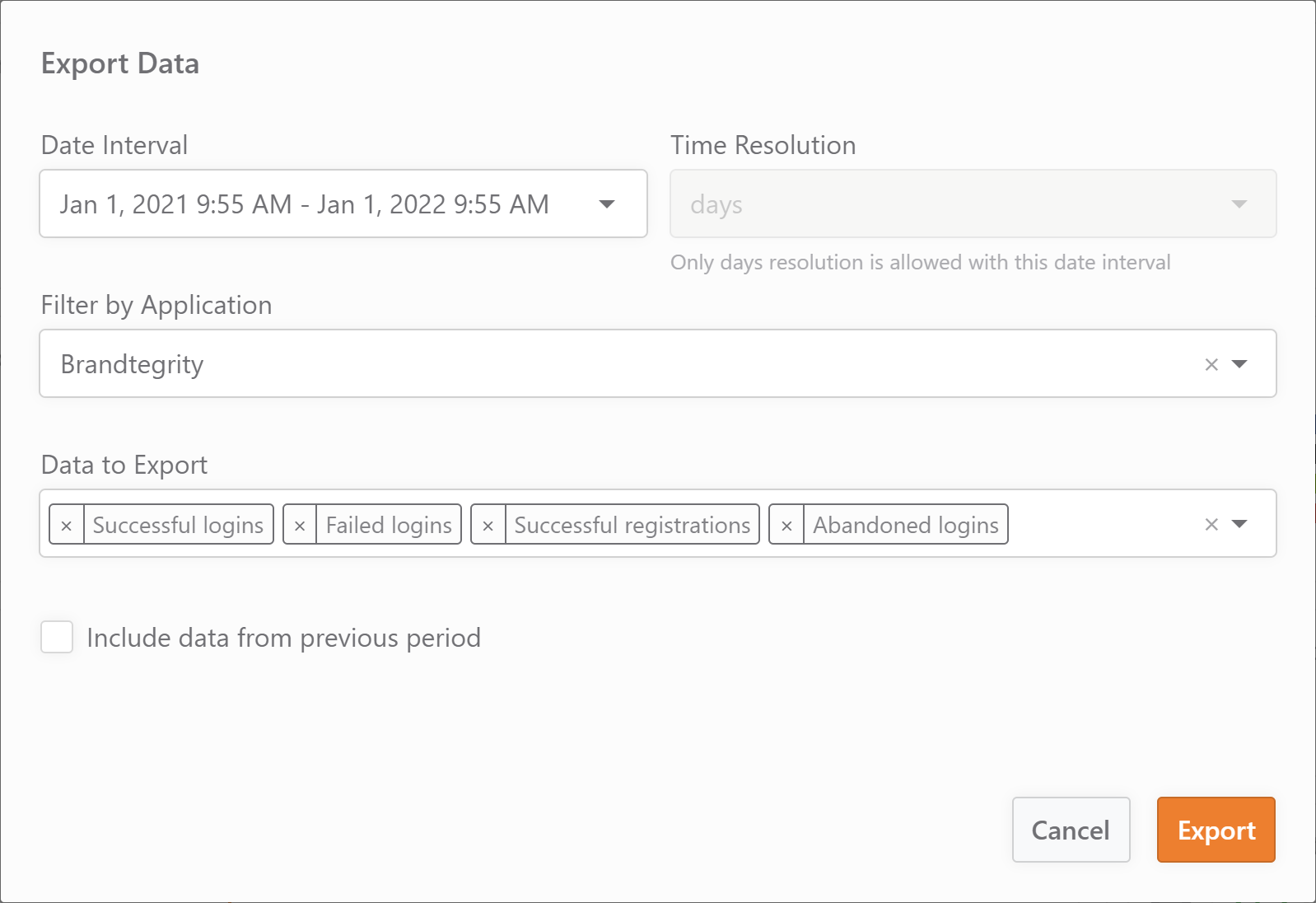 Updated about 1 month ago
---